Super Moderator
Staff member
Super Moderator
Jan 28, 2020
1,741
6
82
Language

English
Bison Tool v0.2 iCloud Bypass Tool for iPhone, iPad​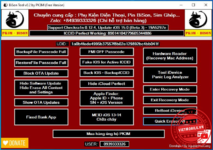 Bison Tool 0.2 is a compact tool for Windows computers. Designed by PK3M and released for free to all users. This update allows users to Quick Erase All, Hide Software Updates, Hide Erase All Content and Settings, Block OTA Updates, Hardware Reader (Recovery MAC Address), Analysis Tool iDevice Panic log.
Information about this software is as follows:
..........
[Windows] BiSon Tool remove passcode, delete icloud, Apple finder, fake iOS, block OTA update...
Support Jailbroken Apple devices with checkra1n.
- FMI Passcode OFF
- Apple Finder: AppleID, SN, PhoneNumber
- Bypass Passcode / Disable Full
- Hide iCloud Perfectly.
- Repair banking application
- Hardware reader
- Bypass iOS 13-14 MEID
- iDevice Panic Log Analyzer Tool
- Spoof iOS to Active ICCID
- Quick Erase All
- Show OTA Updates
- Hide Software Updates / Hide All Erasers
- Go to / exit recovery mode
- Block/Enable iTunes Updates
- Block/Enable Finder with Recovery Mode/DFU.
Instructions for use:
................................
1.First, you need to download and install the file:
https://www.mediafire.com/ file/pa05mbrk1014oap/%5BWindows%5DBiSon_Tool_v0.2_by_PK3M_3009.7z/file
Pass: pk3m
2. Next, go to the extracted folder and run the file "BiSon Tool v0.2 by PK3M", select Run as Administrator
3. Now, on your computer the tool activation window pops up here, you need to fill in all the details
4. Next, you get your PC_ID and send it to this group to get it. activation code (token):
https://www.facebook.com/groups/636469487206482
5. It took 5-10 minutes to get the token because a lot of users commented there.
6. Once you have the token, paste it in and click the Login button.
7. That's it.